 A VAST British Army Barracks ONCE STOOD On 23 acres of land JUST OUTSIDE BUTTEVANT.
FROM 1812 TO ITS DESTRUCTION FOLLOWING THE IRISH WAR OF INDEPENDENCE AND CIVIL WAR IN THE EARLY 1920'S. THE BARRACKS WAS HOME TO many hundreds OF MEN AT ANY ONE TIME AND PROVIDED THE BACK BONE FOR COMMERCE IN THE TOWN IN THE 19TH AND EARLY 20TH CENTURIES. THE MAIN ENTRANCE TO THE BARRACKS CAN still BE SEEN IN THE TOWN TODAY AS THE ENTRANCE TO BUTTEVANT GAA GROUNDS at the end of the aptly named military road.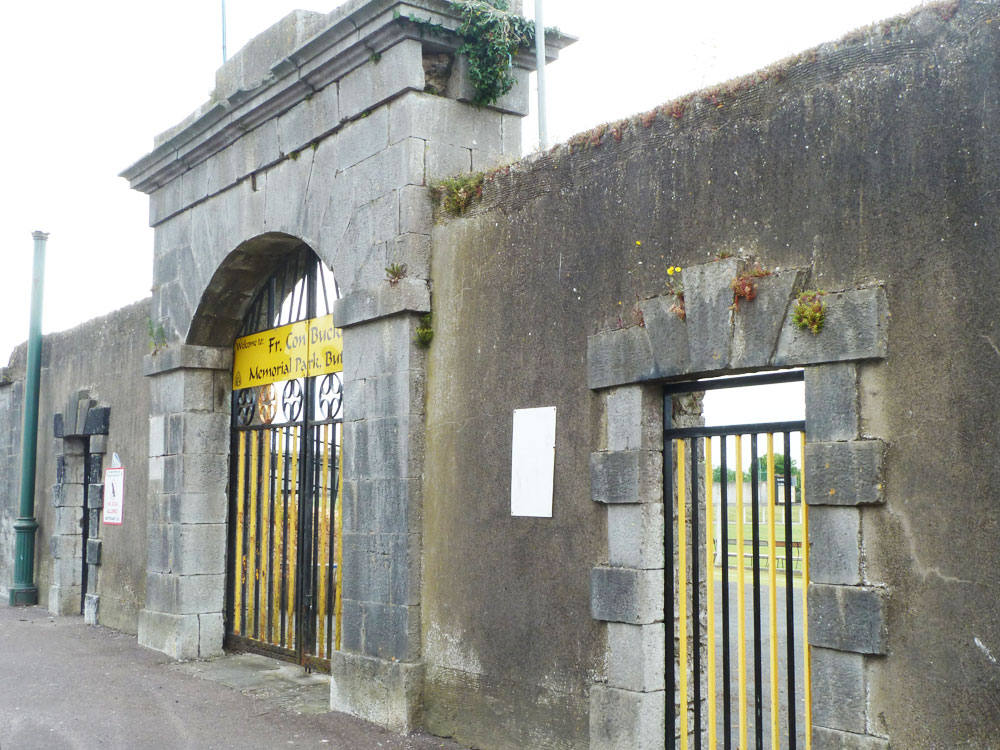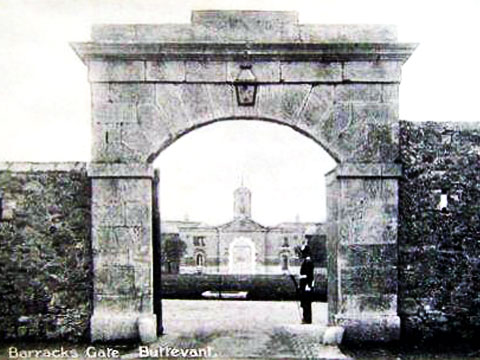 The huge Barracks complex consisted of an extensive range of buildings and took almost 3 years to complete.  Divided into 3 quadrangles, it had a Training Field, Gymnasium, Parade Ground, Church, School, Stables and accommodation for up to 800 soldiers along with support staff. This meant that the logistical support required for the running of the barracks was immense.  For long periods up to early 20th century it is estimated that up to 70% of the towns income was derived from the garrison.
With the outbreak of World War 1 in 1914 thousands of soldiers were processed through Buttevant Barracks and later through the support camp at nearby Ballyvonaire on the Doneraile road.
Ballyvonaire later played a significant medical role as large numbers of soldiers recuperating from the physical and mental scars inflicted by the horrors of the great war were brought here in an attempt to readjust them to a peaceful new life.
The Irish War of Independence brought much hostility to the locality with attacks on crown forces.  These in turn were followed by reprisals by the military on local civilians.
With the end of this war in 1922 and the departure of the British from Ireland, the Buttevant Barracks was abandoned.  It was occupied temporarily by both sides during the ensuing Civil War, but was later burned and destroyed during the conflict.
Today all that remains of the complex itself is the main entrance gate which now provide access to the GAA grounds at the top of the aptly named Military Road, just off the main street at the northern end of the town.